Race Car Safety
Most racers agree that driving a car really fast is far more rewarding and enjoyable when you survive the experience. To help facilitate that, Evil Genius Racing has offers a variety of quality safety products and services beyond our exceptional roll cages.
Custom racing seat mounting. This is often overlooked as a safety measure, but a correctly mounted seat positions you properly within your car to maximize the protection offered by your roll cage and restraint devices. And a comfortable seating position optimizes your range of motion in operating the car's controls as well as reducing fatigue, keeping you sharp.
Fuel cells and mounting/plumbing. Evil Genius Racing proudly sells high-quality and reasonably-priced ATL Fuel Cells. However, we will gladly mount and/or plumb any other quality fuel cell that you bring us.
Fire extinguishers and fire suppression systems. Evil Genius Racing proudly offers a variety of Safecraft fire suppression systems which we'll either install or sell as a kit for you to install yourself according to your preference.
Harnesses and window nets. We have a variety of products available to order. Call or stop by for details.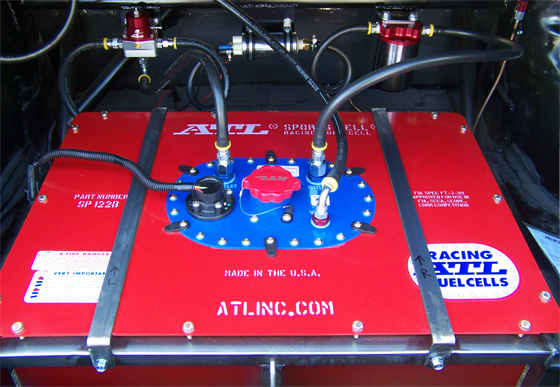 An installed fuel cell.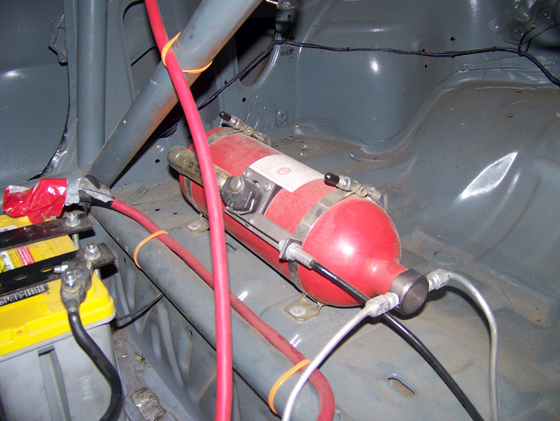 A Halon fire system.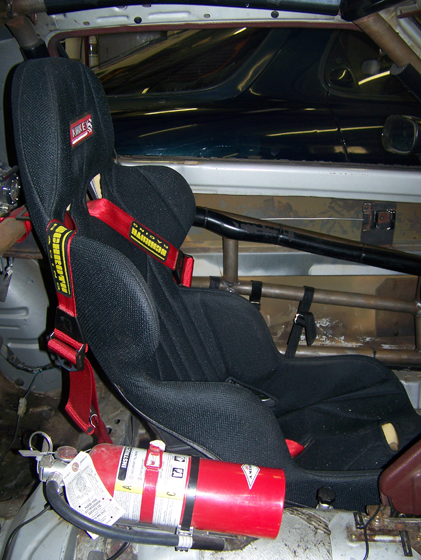 A center-mounted fire extinguisher. These are common in 24 Hour of LeMons race cars.