About Us
Evil Genius Racing was started in 2003 by John Pagel with the primary goal of providing quality race car building and support services at prices that help make racing accessible to grassroots owner/drivers who have to work within limited budgets. And with the secondary goal of making a living at it. Primary goal achieved, secondary goal… well, let's just say that's a work in progress.
Offering services ranging from NASA annual technical inspections to logistics and track support to complete race car builds from a rolling chassis, we're ideally located in Davis, California - close to all the major road course tracks in Northern California and Western Nevada.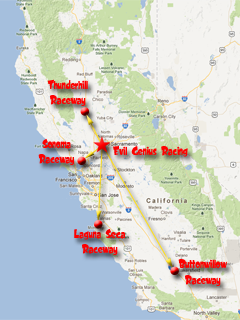 In recent years, Evil Genius Racing has been heavily involved in the 24 Hours of LeMons racing series. In just the past three years, we've designed and built roll cages for dozens of different cars participating in Lemons races as well as campaigning our own hooptie, a formerly-totaled Miata powered by a Yamaha two-stroke snowmobile engine. Also, John serves as a technical and safety consultant for 24 Hours of LeMons, so all the work we do is guaranteed to meet or exceed specs and pass tech inspection at the track.